Resin Flooring Birmingham
Looking for a high-quality, durable resin solution for your flooring in Birmingham and the West Midlands?
Look no further than the team here at Quest Flooring. For many years we have been providing hundreds of happy customers with resin flooring in Birmingham, suitable for covering a concrete floor in both industrial and commercial environments alike.
Whether you need a solid flooring option for your retail or leisure space, or if you're looking to update your warehouse or industrial setting, we understand the need for a strong solution. This is why at Quest Flooring we provide resin flooring systems and a second-to-none bespoke installation process – no matter where you are based in the UK.
There are many different kinds of epoxy resin available in Birmingham, each detailed on our dedicated resin flooring page. Each variety of resin flooring comes with a range of benefits, from slip, UV, and chemical resistance to a food hygiene grade, and location-specific installation guidance – so you have plenty to choose from, no matter your project requirements.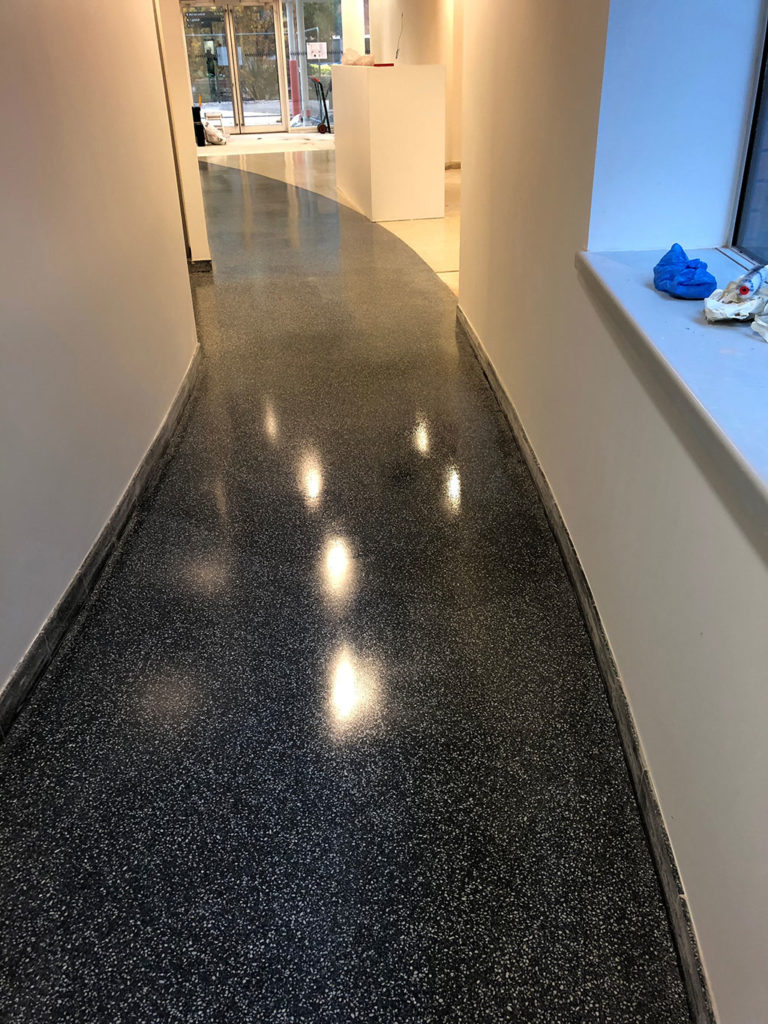 Who is resin flooring suitable for?
Epoxy resin flooring systems have a unique selection of benefits, depending on the type chosen – making them versatile, long-lasting, and sometimes decorative options for environments of all types.
Each popular flooring option is split into different types, according to these specific benefits and their durability level, which ranges from light-duty to very heavy-duty:
Light duty: suitable for areas with light foot traffic and the occasional rubber-tyred vehicle.
Medium-duty: these areas see regular foot traffic, frequent forklift truck traffic, and occasional plastic-wheeled trolleys.
Heavy-duty: spaces that need a sturdier option would be busy with constant forklift truck traffic, hard plastic wheeled trolleys, and some impact day-to-day.
Very heavy-duty: the most hardworking spaces that see severe quantities of heavily loaded traffic and impact require the most specialist protection.
Each resin flooring type comes in a FeRFA type, from 1-8: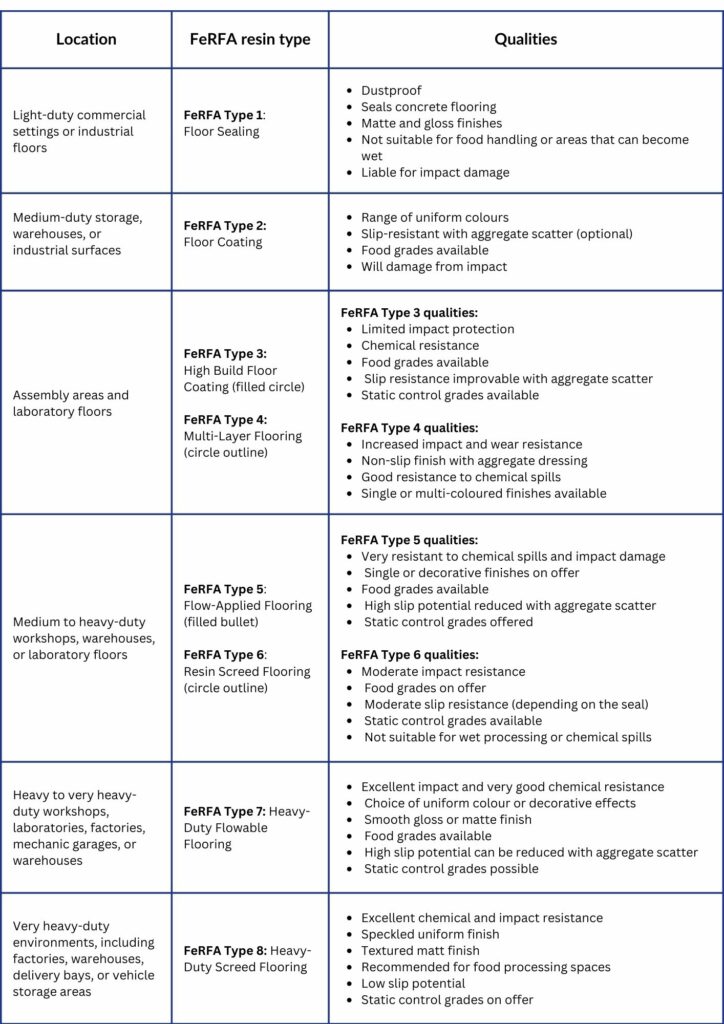 For epoxy resin floors no matter your needs, including commercial kitchens, industrial applications, and manufacturing spaces, reach out today for a quote.
Premier Resin Floors in Birmingham from Quest Specialist Flooring Contractors
To accommodate the wide-ranging needs of our customers, we make sure that our selection of resin flooring products is versatile and high strength. This means that we can offer a solution that suits your exact requirements in terms of performance levels, lifespan, and price.
All FeRFA synthetic resin flooring comes with a selection of product promises, which include:
Exceptional underfoot comfort
A high-quality and durable resin material
Competitive prices
Many modern colours and decorative finishes
Quick and professional installation
A seamless surface finish
These attributes have helped us to become one of the UK's leading contractors of resin floor systems in Birmingham, allowing one of England's biggest cities to benefit from the attributes of epoxy coatings no matter your resin flooring project.
Want to find out more about our resin flooring in Birmingham?
Feel free to get in touch with our friendly experts and we'll gladly provide you with the information you need. Give us a call on 01925 737 369, drop us an email at sales@questltd.flywheelsites.com, or fill out our contact form and we will get back to you as soon as possible.
Epoxy resin flooring FAQs
Can Quest Flooring install my resin flooring?
Quest Industrial Flooring Ltd offers installation on all resin flooring products with our skilled and experienced team.
We have years of experience installing FeRFA resin floors of all types, in premises as varied as assembly areas, food production lines, laboratories, warehouses, mechanic garages, and delivery bays – so we have the proficiency needed to cover your concrete substrate.
This means no matter your budget or timeframe, we are on hand to provide you with the expert service you deserve.
For a quote, or resin flooring recommendations, send us an email or call us on 01925 737 369 and we'll get back to you as soon as we can.
Which resin floor is best for food preparation areas?
Food-grade resin flooring is designed to be hygienic, ensuring easy cleaning, and helping food production staff to work efficiently under busy conditions.
The following FeRFA resins are suitable for food productions areas:
FeRFA Type 2: Floor Coating
FeRFA Type 3: High Build Floor Coating
FeRFA Type 5: Flow-Applied Flooring
FeRFA Type 6: Resin Screed Flooring
FeRFA Type 7: Heavy-Duty Flowable Flooring
FeRFA Type 8: Heavy-Duty Screed Flooring
To decide which is best for your commercial facilities, you will also need to consider other resin floor benefits, such as anti-slip, suitability for wet processing, and which finish you prefer.
To find out which resin flooring is best for your food production site, fill in our contact form, outlining your requirements, or call us on 01925 737 369 and we'll get back to you with a bespoke recommendation.