Resin Flooring Edinburgh
Are you looking to complete a resin flooring project in Edinburgh, Dunbar, or Linlithgow?
For stylish yet durable resin flooring for your project in a commercial or industrial setting, you've come to the right place at Quest Flooring!
For many years now, we've proudly supplied the very best resin flooring in Edinburgh, for customers needing a new resin floor to last them a lifetime or wanting to repair and recover their current ageing resinous flooring systems.
So, whether you need hygienic materials for commercial kitchens or a durable concrete floor cover that can withstand the traffic and impact of a busy warehouse, you can have your pick – browse our resin flooring products to find out more.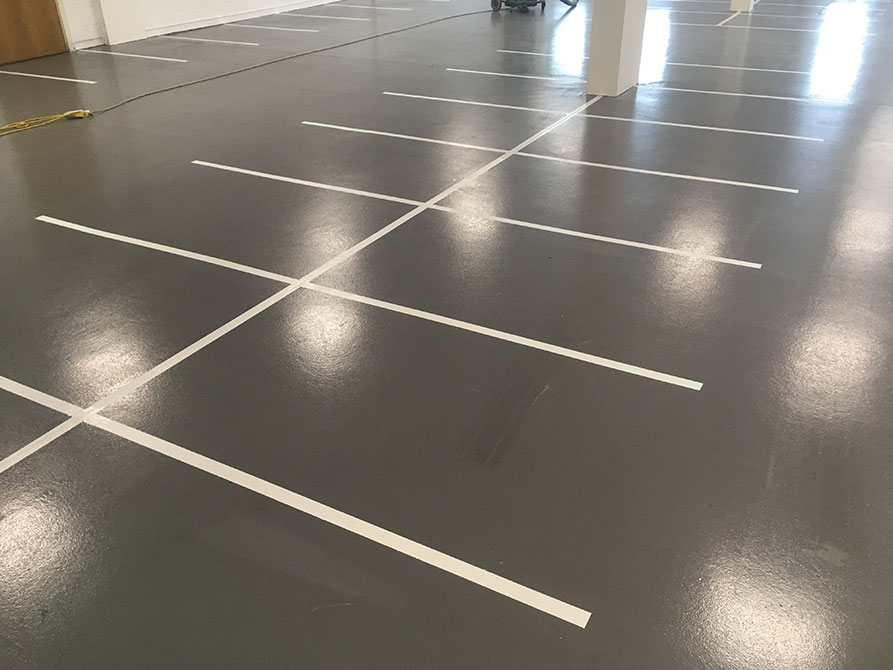 Who can use epoxy resin flooring?
When it comes to choosing the right resin flooring for you, there at many types to consider.
Each resin product comes with qualities that make it better suited to one type of environment over others. This means the more we know about your project requirements, the better your resin floor recommendation will be.
We can provide a variety of options to suit your specific requirements – so whether you need to refurbish your commercial office, a leisure or retail space, or a warehouse or industrial setting, we've got a flooring system perfect for you.
Although each product from our selection differs in its performance, expected lifespan, and price, there are some constants that come with all of our resin floors in Edinburgh, which include:
Competitive prices
Exceptional underfoot comfort
A seamless surface finish
A range of modern colours and decorative finishes
High-quality, durable resin
Quick and professional installation
If you are looking for a specific design or aesthetic for your resin floors, you can also rest easy. Just as there are many kinds of flooring to choose from to fit the theme of your building, including coloured or speckled finishes, each is designed and installed to withstand the force placed upon them for many years to come.
FeRFA resin types include: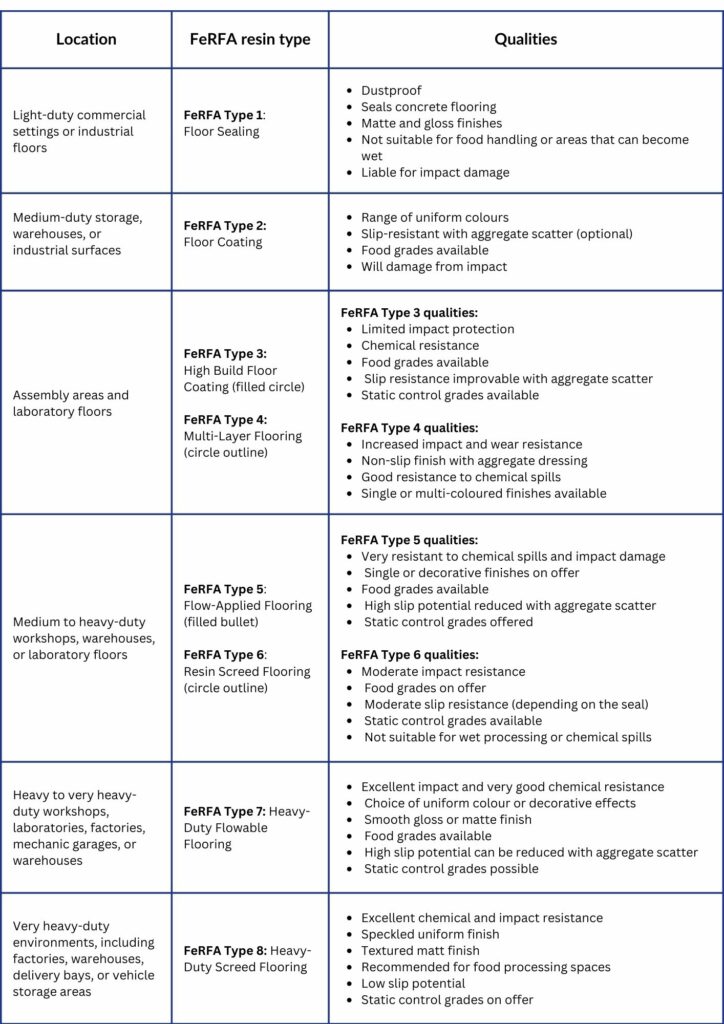 Choose superior resin flooring from the experts at Quest Flooring
At Quest Flooring, we are proud of our reputation and enjoy certification as a member of the Resin Flooring Association (FeRFA) – allowing us to install resin flooring in Edinburgh that's famed for its resistance, durability, and resistance to cracking.
As specialists in industrial and commercial resin flooring, you are in safe hands when you work with our experts. We are able to guide you on which epoxy resin in Edinburgh is most suitable for your requirements, ensuring you make a smart, considered, and long-lasting purchase for your property.
Using our industry experience and expertise, you can count on us to provide the no-obligation advice you need to choose your ideal resin flooring in Edinburgh today, without spending a penny more than you need to.
If you would like to find out more about resin floors in Edinburgh before you buy, our professional team is always on hand to help.
Discuss your enquiries with us over the phone on 01925 737 369, drop us an email at sales@questltd.co.uk, or fill in our simple contact form with your project requirements, and one of our team will provide a response as soon as possible.
Resin flooring FAQs
Should all resin flooring system providers be FeRFA certified?
FeRFA, the Resin Flooring Association, is dedicated solely to industrial and commercial resin flooring, screeding, and surface preparation. This organisation aims to qualify and upskill all highly trained and qualified floor-covering operatives.
Such training keeps them at the top of their game and rewards their extensive experience in their specialist field, which is recognised by leading bodies such as BSI, BBA, CITB, CSCS, and Build UK.
But what does this mean for you?
Well, to put it simply, it means that the operatives installing your resin floor are well-trained, competent professionals who can be trusted to do the job well every time.
Whether you choose FeRFA-certified professionals for your next flooring project is up to you.
To discuss your flooring options with our professional team, send us an email or call us on 01925 737 369 and we'll get back to you as soon as possible.
How long does resin flooring last?
Depending on the FeRFA type chosen, the conditions it is exposed to, and how well your flooring is cared for, the lifetime of your resinous flooring system can vary.
However, if you have the correct type of flooring system installed, its durability will be vastly increased. So, as a general rule, you should expect each FeRFA floor covering to last for around:
FeRFA Type 1: Floor Sealing, 1-2 years.
FeRFA Type 2: Floor Coating, 1-3 years.
FeRFA Type 3: High Build Floor Coating, up to 7 years.
FeRFA Type 4: Multi-Layer Flooring, 2-5 years.
FeRFA Type 5: Flow-Applied Flooring, 3-6 years.
FeRFA Type 6: Resin Screed Flooring, 5-12 years.
FeRFA Type 7: Heavy-Duty Flowable Flooring, 5-10 years.
FeRFA Type 8: Heavy-Duty Screed Flooring, 10-12 years.
It is important to note, however, that these are general estimates only. For a bespoke estimation, we'll need to generate a free, no-obligation quote for your specifications.
To find out more, fill in our contact form, outlining your requirements, or call us on 01925 737 369 and we'll get back to you with a bespoke recommendation.