Need high-quality resin flooring for your commercial project? You're in the right place. Here at Quest, we're a certified member of the Resin Flooring Association (FeRFA) and a specialist in industrial resin flooring. Whether you're looking to upgrade a retail or leisure space, update a commercial office, or refurbish a warehouse or industrial environment, we're here to help.
A comprehensive selection of resin flooring
We currently offer a broad range of resin floors to suit a variety of needs. These differ in terms of their performance, lifespan and price and further details of each can be found below.
Regardless of which type of industrial resin flooring you choose, you can expect:
high-quality and durable resin
a seamless-surface finish
quick and professional installation
competitive prices
a range of modern colours and decorative finishes
exceptional underfoot comfort
As one of the UK's leading resin flooring contractors, we supply and install resin floors in Manchester, Birmingham, Leeds, Sheffield, Bradford, Warrington, Liverpool, Bristol, Newcastle, Sunderland, and beyond. We have a highly skilled and experienced team, and whatever your timeframe or budget, we can help to create the ideal flooring solution for your project.
Ready to order your new resin flooring?
Getting a quote is very easy. You can either give us a call on 01925 737 369 to chat to a member of our team or make an enquiry by filling out our online form. We're always on hand and happy to help. Simply tell us your requirements and we will offer expert advice on the best resin flooring options for you.
FeRFA Type 1 – Floor Seal
This seal is intended for light duty industrial dust-proofing and sealing of concrete flooring and is applied via brush or roller. It is a uniform colour and is available in both matte and gloss finish. It has a lifespan of between 1 and 2 years, meaning the system will need to be reapplied thereafter. It has limited chemical protection but is easy to clean and maintain with a vacuum or mop.
FeRFA Type 2 – Floor Coating
This coating is intended for medium duty storage rooms or warehouses, but can also be used in light industrial environments. It has a lifespan of 2-3 years and is applied in 2 or more coats via brush or roller. It is available in uniform colouring but can be specified with either matte or gloss finish to aid aesthetics and provide slip resistance on the smooth surface.
FeRFA Type 3 – High Build Floor Coating
The High Build Floor Coating is a thicker coat, at 300 to 1000 µm total thickness and is intended for medium duty industrial environments such as warehousing, storage, assembly areas or laboratories. It has an anticipated lifespan of up to 7 years and is available in both gloss silk and matte finish. This coating has a good resistance to chemical spillages and decent impact resistance to heavy machinery.
FeRFA Type 4 – Multi-Layer Flooring
This aggregate dressed system is based on multiple layers of floor coatings or flow-applied floorings, often described as 'sandwich' systems. It is intended for medium or heavy duty environments; with good resistance to both impact and wear from heavy machinery and traffic. It is also available in a variety of colours, but is dependent on the aggregate used. This flooring also has very low slip potential, so it is ideal for busy industrial environments.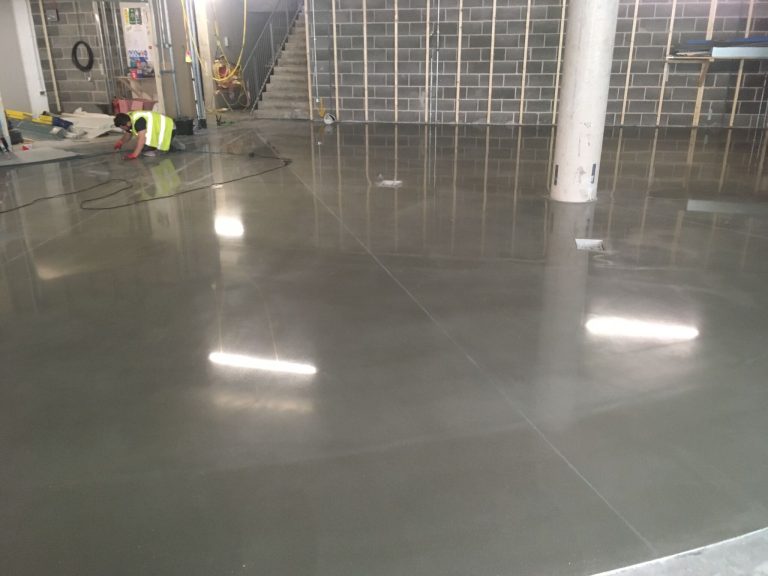 FeRFA Type 5 – Flow-Applied Flooring
This type is often known as self-levelling or self-smoothing flooring and is intended for medium to heavy duty environments such as workshops, warehousing and hygienic areas such as laboratories due to its very high resistance to all types of chemicals. It is available in uniform colour but decorative effects can be added. It has an anticipated lifespan of 6 to 8 years in medium duty areas and 3 to 4 years in heavy duty environments.
FeRFA Type 6 – Resin Screed Flooring
This is a trowel-finished, heavily filled system generally incorporating a surface seal coat to minimize porosity. It is ideal for medium duty areas such as engineering workshops and other dry processing areas, but can also be used in warehousing, storage or general industrial environments. However, it is not recommended for areas where chemical spillages are known to happen as it's resistance to potentially corrosive chemicals is poor. It is available in uniform colouring but decorative effects can be added to the surface. It has high slip resistance and has is very hygienic as long as the surface seal is kept maintained and intact. It has an anticipated lifespan of 10-12 years in typical medium duty environments and 5 to 7 years in heavy duty, provided the seal coat is maintained regularly.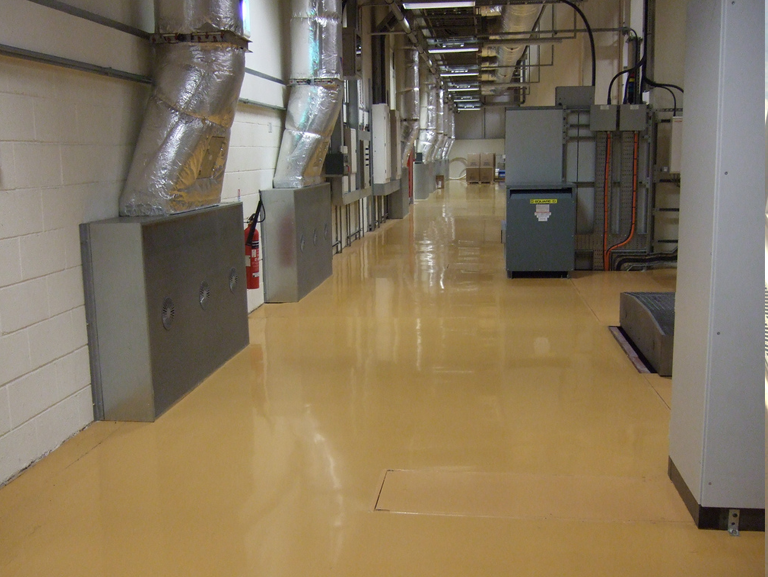 FeRFA Type 7 – Heavy Duty Flowable Flooring
This is an aggregate filled system that is intended for either heavy duty or very heavy duty environments such as areas with large or heavy machinery due to its very good impact resistance and good resistance to chemical attack. As it is an aggregate filled system, decorative effects are available. It can also be finished with a matte or very smooth gloss surface. Its anticipated lifespan is 8 to 10 years in heavy duty areas and 5 to 8 years in very heavy duty environments.
FeRFA Type 8 – Heavy Duty Screed Flooring
This is a trowel-finished, aggregate-filled system that is designed specifically for very heavy duty environments with potentially very heavy loads from machinery or traffic as it is virtually impervious throughout its lifespan of 10-12 years. It has excellent impact and chemical resistance and very good hygiene standards, which also makes it ideal for chemically hazardous environments such as research facilities or laboratories. It has a textured matte finish.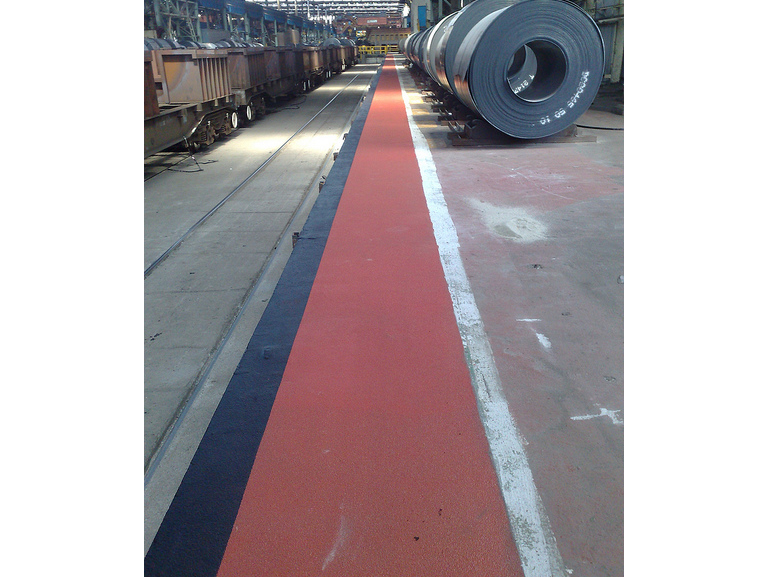 Resin Flooring – Unclassified
If you are looking for a flooring system that is hard wearing, chemical resistant, abrasion resistant but still very decorative look no further than Resin Flooring from Quest. With all these qualities, the system is at home in industry, food preparation, pharmaceuticals, electro-sensitive areas, health, education, emergency services, law enforcement, retail and a range of other environments.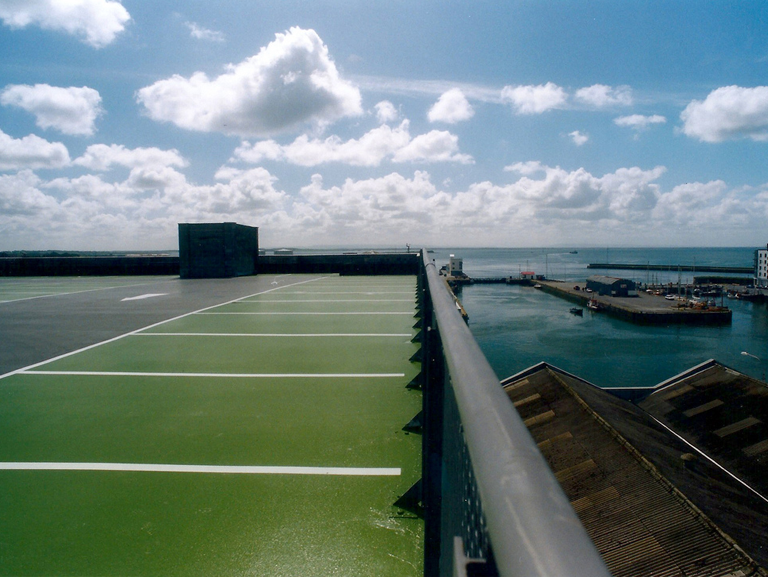 Quest are experts at creating welcoming, colourful bright and environmentally friendly car parking areas offering building operators and owners flooring that is both durable and aesthetically changeable; available in a variety of colours in order to accommodate any environment or business. It is available with waterproofing, making the surface impermeable to liquid. It can be also be installed with light reflective markings and a slip resistant surface which will reduce the effects of tyre squeal.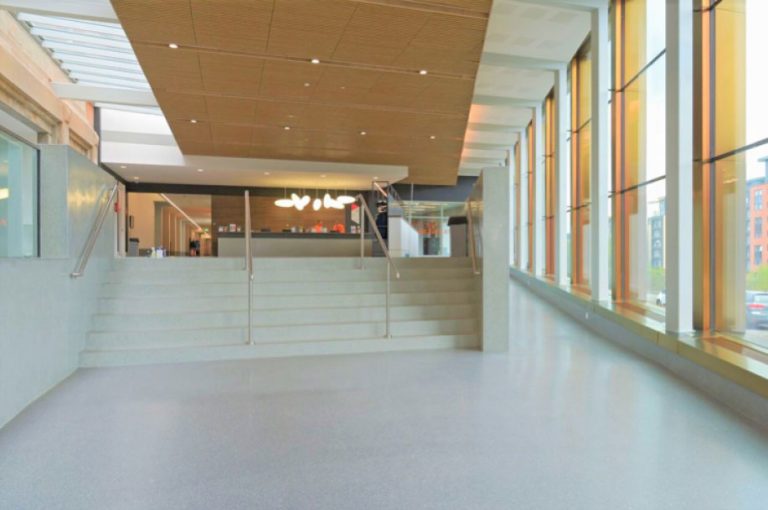 FeRFA Resin Terrazzo Flooring
Epoxy Terrazzo is a resin flooring system that is designed for use specifically in commercial or industrial flooring. The epoxy mix means that the flooring is extremely strong and durable, offering extra protection from physical damage as well as possible chemical damage and more. Just like other types of resin flooring, resin terrazzo is very decorative, meaning it can incorporate a brand logo and is available in a number of colours and styles. Epoxy Terrazzo is known for its highly decorative finish which includes aggregates such as marble chippings, granite chippings, synthetic stone or crushed glass.
Resin Terrazzo Refurbishment
Terrazzo floors are extremely durable; however older examples can potentially need extensive repair work in order to restore them to their former splendour. Holes where stone chippings have come loose may need filling and a loss of lustre will require the need for diamond grinding and polishing. Once it is fully restored, it can be maintained very easily with regular dry and wet mopping, or as is more common in commercial environments, scrubber drying.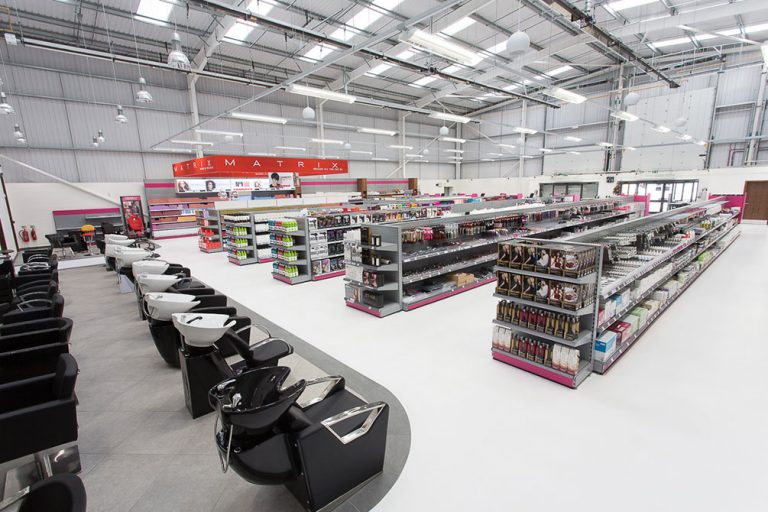 Decorative Resin Flooring
Using resin means that any of a range of colours can be used and a company logo can even be included in the floor design. As well as the aesthetic benefits, of which there are many, polished resin flooring also offers durability and long lasting results. Colours look great and last for years, the resin can be used indoors and outdoors for a uniform feel, and its strength means that it can be used in a variety of applications.
What is resin flooring?
Resin flooring, essentially, is a hard plastic surface that is laid on top of the flooring substrate. It usually has three layers, including:
1.  A primer
This is used to penetrate the substrate, creating a strong and long-lasting bond.
2. Body coat
The body coat is the main structural layer. At its most basic level, it's made from a synthetic resin and a separate hardener. This creates a hard-wearing finish, perfect for use in many industrial and commercial environments. However, for particularly heavy-duty applications, additional ingredients (e.g. aggregates, pigment, decorative flakes) can also be added to make it thicker and tougher.
How much does resin flooring cost?
The exact cost of resin flooring in the UK varies dependent on several factors, including the level of floor preparation required, the type chosen and the size of the project. But rest assured, here at Quest, all of our industrial flooring is available for a competitive price. As one of the UK's leading resin flooring companies, we always strive to work within your budget. Simply give us a call on 01925 737 369 to discuss your requirements and we will provide a quick, personalised quote.
Why choose resin flooring?
Industrial resin flooring has becoming an increasingly popular option over recent years – and it's easy to understand why. Not only is it exceptionally durable, it also boasts a wide range of benefits. For example, resin flooring:
protects the substrate from damage
has no visible joins or edges, creating a seamless and elegant finish
is easy to clean and maintain
offers excellent hygiene and hypoallergenic qualities
comes in a wide range of colours and designs
What's more, resin flooring can be installed on pretty much any flooring substrate. It's an affordable option for most projects and could be just what you need to create a stylish yet long-lasting floor.