Table Key:
Resin Flooring Glasgow
For many projects in a commercial setting, epoxy resin flooring is a must. Not only is it a stylish option that can fit with any theme in your building, but it is a highly durable surface, ensuring it'll last decades without having to think about repairs or replacements.
At Quest Flooring, we've been providing epoxy resin flooring in Glasgow and across the UK for many years now, so it's safe to say we know a thing or two about the very best solutions out there. We are lucky to offer said options to our growing list of customers and take pride in providing them with durable, reliable resin surfaces with minimum downtime.
As certified members of the Resin Flooring Association (FeRFA), we're qualified, trusted suppliers of workable solutions and offer the best advice to our customers who need high-quality epoxy resin in Glasgow and across wider Scotland.
So, whether you need flooring for your leisure, retail, or industrial setting, commercial office, or warehouse, we have you covered at Quest Flooring.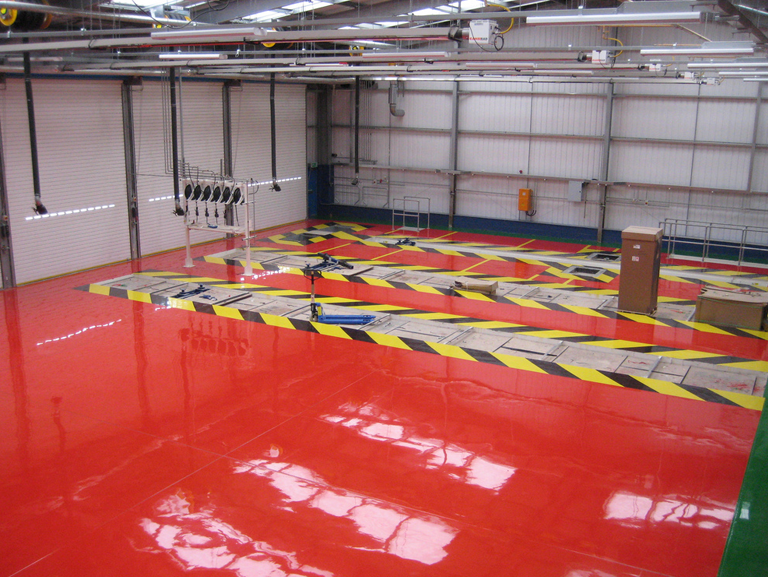 Epoxy resin flooring systems in Glasgow
As part of our comprehensive service, we are lucky enough to offer many kinds of epoxy resin floors in Glasgow to suit your specific requirements. Our options are wide-ranging, and each differs in its expected lifespan, level of performance, and price. If you would like to find out more about each flooring option in detail, be sure to check out our dedicated resin flooring page.
Regardless of where you are based in Glasgow, our team of skilled flooring experts can be at your property in no time to install and create your ideal solution. Let us work with you to put your vision into practice, making the perfect kind of resin flooring for your building that will last for years to come.
The quality of our resin floors in Glasgow is unrivalled, providing a professional and stylish surface without compromising on the ruggedness and durability that is required from top-quality resin flooring.
Who needs resin flooring Glasgow?
While considered by some as rather a niche surface option, an epoxy resin flooring coating is actually ideal for installation in many locations, thanks to the different types available.
Each resin floor type includes particular benefits and weaknesses that suit particular spaces – meaning there is resin flooring that can transform almost any location, as you can see below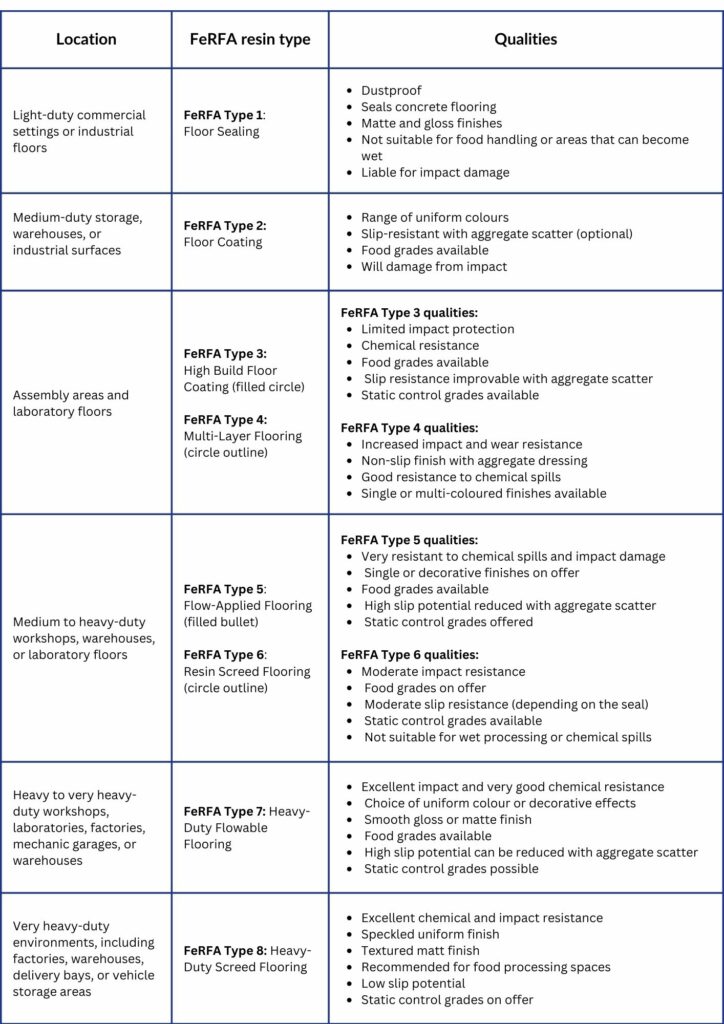 Table Key:
Light duty: light foot traffic, occasional rubber-tyred vehicles
Medium-duty: regular foot traffic, frequent forklift truck traffic, and occasional plastic-wheeled trolleys
Heavy-duty: constant forklift truck traffic, hard plastic wheeled trolleys, and some impact
Very heavy-duty: severe heavily loaded traffic and impact
For epoxy resin flooring in Glasgow, reach out today!
No matter which surfaces you need to transform, Quest Flooring can lead supply and installation across Scotland, or even maintain the resin flooring you already have that has become subject to damage from overuse.
if you have any questions regarding our epoxy resin in Glasgow before you buy, our team would love to help. Give us a call today on 01925 737 369 to discuss your enquiries, or drop us an email at sales@questltd.flywheelsites.com. Alternatively, you can also fill out our online form for a bespoke response from one of our experts.
Epoxy flooring FAQs
Are epoxy resin coatings more durable than other flooring types?
As well as having a very wide range of epoxy coatings to choose from, resin flooring is renowned for its durability and long-lasting finish.
Thanks to its scope of benefits, depending on the type chosen, the coatings can have a possible resistance to:
Chemicals
General wear and tear
Foot traffic
Impact
It can also far outlast finished flooring types including carpet, tiles, and wooden floors, and can also vastly improve the appearance, and function of, concrete flooring.
Alongside being incredibly durable, epoxy resin can also be anti-slip, installed in a range of colours and designs, and give a modern, seamless finish – which is especially popular with sites that are customer-facing.
To find out if epoxy resin flooring is suitable for your space, you can fill in our online form or call us on 01925 737 369 and we will get back to you as soon as we can.
Scotland is very rainy, will resin coatings be suitable in Glasgow?
Worried that the side effects of wet visitors will ruin your flooring?
Rainy shoes and damp footprints can quickly ruin carpets and can make tiles slippery and unsafe – so is a resin coating the solution for you?
Luckily for you, resin flooring is generally waterproof, though the level of protection will differ depending on the type chosen. This means that splashes and wet footprints will not damage the floor and are quickly mopped up.
Similarly, if you are worried about slips and trips, you can choose a resin type that is either anti-slip or add an aggregate scatter that will increase the non-slip rating.
No matter your business or what service you offer, you can be sure that Quest Flooring has resin flooring for you. For a quote, or for resin recommendations, send us an email or call us on 01925 737 369 and we'll get back to you.