Resin Flooring Liverpool
Here at Quest Flooring, we have been supplying companies in Liverpool with the flooring they need to ensure that they can operate in the most efficient and successful way possible.
The strong and stylish options we offer have proven to be a big hit with commercial businesses over the years, and it is easy to see why.
Whether you need resin flooring in Liverpool for your small or large scale commercial project, you can rely on the experts from Quest Flooring to provide you with durable flooring that can always be relied upon.
Our resin floors in Liverpool are extremely versatile, which is one of the reasons why they are so popular with our customers.
So, no matter if you need a flooring solution for your retail or leisure setting, or if you want to find a way of updating the look of your office space, we have you covered.
Wide range of epoxy resin flooring in Liverpool
We ensure our list of products is comprehensive to accommodate the many needs of our clients requiring resin flooring in Liverpool.
Dependent on your requirements, you may need to opt for a specific kind of resin flooring so you can be sure you receive the best possible results. A full list can be found on our dedicated resin flooring page.
With differences in performance levels, lifespan, and price, it is worth browsing through each of our offerings before you get in touch.
Here at Quest Flooring, we ensure our epoxy resin flooring in Liverpool always meets the highest standards. This means that although some attributes of our resin solutions may differ between individual products, the following qualities remain the same:
Quick and professional installation from the team
An exceptional level of underfoot comfort
A wide selection of colours, styles, and finishes
Strong, high quality and durable resin solutions
A seamless surface finish
The most competitive prices around
We are proud to uphold our status as one of the UK's leading resin flooring contractors. Having worked hard to gain a solid reputation, we show no signs of letting it slip!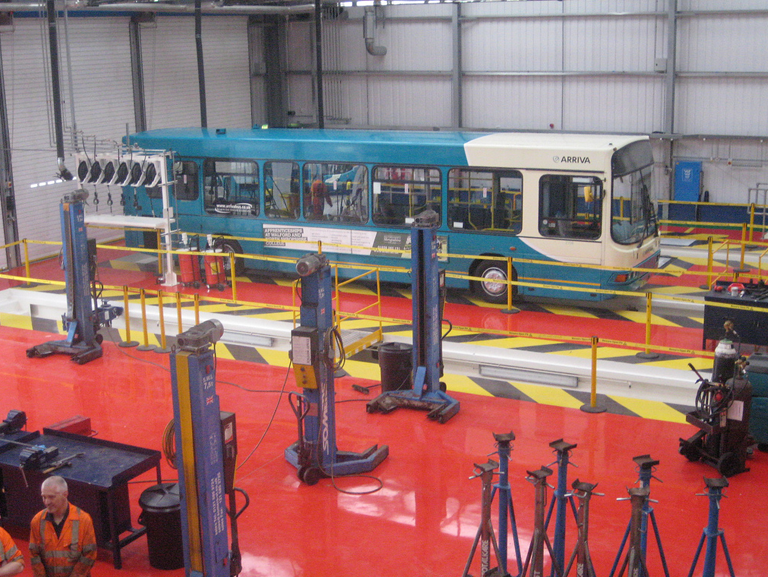 Benefits of our resin flooring Liverpool
Our industrial epoxy resin flooring is attractive, hard-wearing, smooth, and self-levelling. We can also add quartz or graded aggregate to it, further improving its slip-resistant qualities by providing it with texture.
Our resin flooring works particularly well in sectors that need a floor that can keep up with the gruelling demands of plant and machinery. These include industries such as food, pharmaceuticals, automotive, engineering and aerospace.
Industrial resin flooring in Liverpool is also perfect for areas with a high level of foot traffic, such as workshops, corridors, and canteens.
Our epoxy resin flooring is an inexpensive flooring choice, when compared with many other types of industrial flooring in Liverpool. This is partly because your old flooring doesn't typically need to be removed before we install your new epoxy resin flooring. We can apply the resin flooring directly over the top of your existing wooden or concrete floor.
Another benefit of our industrial epoxy resin flooring in Liverpool is that it is extremely durable, and will never crack or peel like other flooring options. It's also highly resistant to moisture, and able to tolerate heavy loads.
Finally, our epoxy resin flooring in Liverpool requires very little maintenance, saving you both time and money.
Resin flooring contractors Liverpool
At Quest Flooring, we provide quality epoxy resin flooring across the North West of England. Our expert team of resin flooring contractors in Liverpool aims to swiftly deliver your flooring installation using the latest technology and methods.
From initial concept right through to installation, we have the experience and knowledge to manage every detail of your industrial resin flooring installation in Liverpool.
Speak to an expert about resin flooring Liverpool
Do you feel like you need to ask some questions before making your resin flooring order? Or would you like to commit straight away?
You can give us a call now on 01925 737 369 to speak to one of our team directly or drop us an email at sales@questltd.co.uk. You can also fill out our online form and we will get back to you as soon as possible.
What is resin flooring?
Resin flooring, essentially, is a durable plastic surface that is laid over the top of the existing flooring substrate.
Resin flooring usually has three layers, which include:
A primer
This resin flooring primer is used to penetrate the substrate of the existing floor, creating a robust bond.
Body coat
The body coat is the main structural layer of resin flooring. It comprises a synthetic resin and a separate hardener that is applied as a coating. This results in a hard-wearing finish, which is ideal for many industrial and commercial purposes.
However, for particularly heavy-duty applications, such as environments with a high level of vehicle traffic or heavy machinery, additional ingredients such as aggregates and decorative flakes can be added for even more durability.
Here at Quest Flooring, we provide several different types of resin flooring in Liverpool, suitable for various applications and each offering its own unique aesthetic. For more information on each type, take a look at the descriptions on this page.
If you have any questions about our resin flooring in Liverpool, don't hesitate to get in touch with our knowledgeable and friendly team.
You can give us a call on 01925 737 369 or fill in our online contact form and we'll get back to you as soon as possible.
How much does resin flooring in Liverpool cost?
The exact cost of our resin flooring in Liverpool will vary depending upon several factors. These include the level of floor preparation your project requires, the type of resin flooring you choose, and the size of your project.
Rest assured, however, that here at Quest, we price all our industrial flooring highly competitively. As a prominent company providing resin flooring in Liverpool, we always aim to work within your budget.
Although a larger flooring area will inevitably be more expensive, the price per square metre will be less than for a smaller area. This is because we mix and installed our resin flooring in Liverpool on-site, meaning that a larger area allows for greater efficiency.
For a quick, personalised quote for resin flooring in Liverpool, simply give us a call on 01925 737 369 to discuss your requirements.
Why choose resin flooring in Liverpool?
Industrial resin flooring in Liverpool has become increasingly popular over recent years, due to the wide range of benefits it provides. For example, our resin flooring:
Is exceptionally durable
Protects the substrate from sustaining damage
Has no visible joins, resulting in a seamless and elegant finish
Is easy to keep clean and maintain
Offers outstanding hygiene and hypoallergenic qualities
Comes in a wide range of designs and colours
Additionally, our resin flooring in Liverpool can be installed over the top of almost any existing industrial floor. It's an affordable option for most projects and could be the ideal solution to create stylish and durable industrial commercial flooring.
If you'd like to find out more about the benefits of resin flooring in Liverpool, don't hesitate to get in touch with our team, who will be happy to assist you.