Resin Flooring Manchester
Here at Quest Flooring, we have been providing flooring solutions, including resin and epoxy resin, all over the UK for many years, and show no signs of slowing down!
As part of the many flooring types we offer as part of our service, our resin floors in Manchester have proved to be immensely popular. We are lucky enough to be a certified member of the Resin Flooring Association (FeRTA), making us specialists in installing the finest resin flooring in Manchester and beyond.
So, whether you're based in a commercial or industrial setting, we are on hand to assist you with our vast expertise so you can be assured you are receiving the resin flooring coating that suits your requirements to a tee.
High-quality epoxy resin floors in Manchester
No matter where you are based in Manchester, our resin floors can be quickly installed, meaning you won't have to wait long before the answer to your problems has arrived. No matter your requirements, our plethora of epoxy resin in Manchester will never disappoint.
Even though we deal with many different specifications, we ensure some constants when it comes to our products. These include:
A durable resin solution that lasts for years to come
Seamless-surface finish
Fast and professional installation
Unbeatable prices
A wide selection of finishes, colours, and decorations for your resin flooring
Exceptionally comfortable underfoot feel
At Quest Flooring, we pride ourselves on being one of the UK's best in the field of resin flooring. Our experienced team of experts is accessible to anyone who needs them, including Manchester and the wider North West.
So, no matter your time or budget constraints, the Quest Flooring team will be glad to work with you to achieve the best possible results with your epoxy flooring.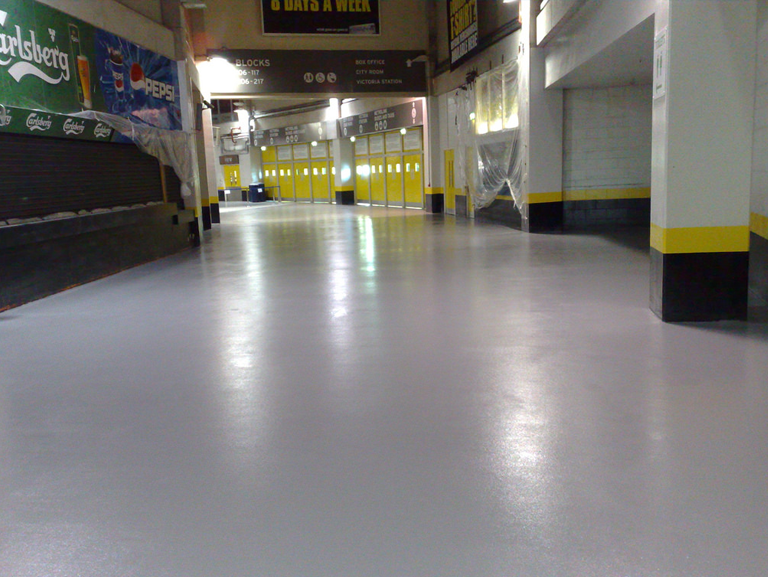 Which resin flooring is best?
With such a wide range of epoxy floors on the market, it can be difficult to know where to start when looking for a new floor or replacement flooring system.
Split into distinct types that are suitable for different environments, there are FeRFA epoxy resin floors that are suitable for everything from domestic resin flooring to covering polished concrete floors and commercial and industrial spaces.
FeRFA Type 1: Floor Sealing is designed to dust-proof and seal light-duty industrial environments that have concrete floors – available with a matte and gloss finish.
FeRFA Type 2: Floor Coating intended for medium-duty storage rooms and warehouses or light industrial floors, this resin flooring can be supplied in a range of uniform colours and optional slip resistance.
FeRFA Type 3: High Build Floor Coating a thicker epoxy flooring, FeRFA Type 3 is designed for medium-duty industrial environments such as warehousing, storage, assembly areas, or laboratories – and features chemical resistance alongside fair impact protection.
FeRFA Type 4: Multi-Layer Flooring is a system based on multiple layers of floor coatings, intended for hardwearing environments that need good resistance to impact and wear and a non-slip finish.
FeRFA Type 5: Flow-Applied Flooring is self-smoothing and thanks to it's high-resistance to chemicals is ideal for workshops, warehouses, and laboratories.
FeRFA Type 6: Resin Screed Flooring is a heavily filled system that incorporates a surface seal, making it the perfect epoxy floor coating for a range of locations, unless they regularly experience chemical spills.
FeRFA Type 7: Heavy Duty Flowable Flooring is an aggregate-filled system for the hardest-working environments – designed for spaces that need impact resistance and protection from chemical spills.
FeRFA Type 8: Heavy Duty Screed Flooring is our heaviest-duty floor coating that has impact and chemical resistance, helps maintain hygiene standards, and has a textured matte finish for additional slip resistance.
For epoxy resin flooring, get in touch today!
If you would like to find out more about how you can benefit from resin flooring in Manchester, contact our team of experts today and we will gladly provide you with the information you require.
You can either call us on 01925 737 369, email us at sales@questltd.flywheelsites.com or get in touch via our online form, and we will get back to you as soon as possible.
Epoxy Flooring FAQS
Does epoxy resin flooring take a long time to install?
Depending on the epoxy resin floor chosen and the amount of floor that needs to be covered, the process and timeframe for installation will differ, ranging anywhere from a single to multiple days.
However, once installed, most of our floor coatings will last for a minimum of 1-2 years, and up to a maximum of 12 years, making it an incredible investment that can cut down on cleaning and repair times over its lifespan.
For a personalised quote that involves an installation timeframe and a competitive price, reach out to our epoxy resin floor experts today – you can either call us on 01925 737 369 or email us at sales@questltd.flywheelsites.com and we'll get back to you as soon as we can.
Is resin flooring a durable choice?
If the correct epoxy resin flooring is chosen, it can bring extreme toughness and durability. Epoxy flooring has a range of benefits that make it ideal for hardworking spaces, be they commercial and industrial, domestic, or a mix of all three.
Epoxy floor coatings can be:
Resistant to chemical exposure
Stop the damage associated with foot traffic
Anti-slip
Long-lasting
Available in a range of colours and designs
Very modern – giving a smooth, seamless, contemporary look
High- quality
If you have any existing questions regarding the suitability of epoxy resin flooring for your space, contact us today. You can fill in our online form or call us on 01925 737 369 and we will get back to you as soon as we can.